MERS - Managed Extension Reporting Service
​
The TSA Managed Extension Reporting Service (MERS) provides managers and users alike with periodic call diagnostics and reporting of telephone system usage.
​
Diagnostics are delivered via email in dashboard layout. The email dashboards give managers, at a glance, an overview of end user activity on a monthly basis.
​
Visibility of this information allows managers to:

Understand employee usage of the telephony network


Understand telephony usage patterns:

Busiest Hour for incoming and outgoing calls per day

Inbound and Outbound call counts (per week and per month)

Alerts or Business Rules applied to every call with email notifications

Activity by staff member/extension including count, duration and destination zone

Call types by count and duration

Calls by Destination

A list of unused extensions each month

Trunk utilisation graph each month

The ability to apply names to your extensions to make the reporting specific within the organisations environment.
The ability to make decisions based upon your own factual data, rather than data supplied via carrier invoice, or averaged industry trending.
​
​
MERS Monthly Report
​
On the first day of each month a report will be delivered to nominated email addresses in the format outlined below showing call activity for the previous month.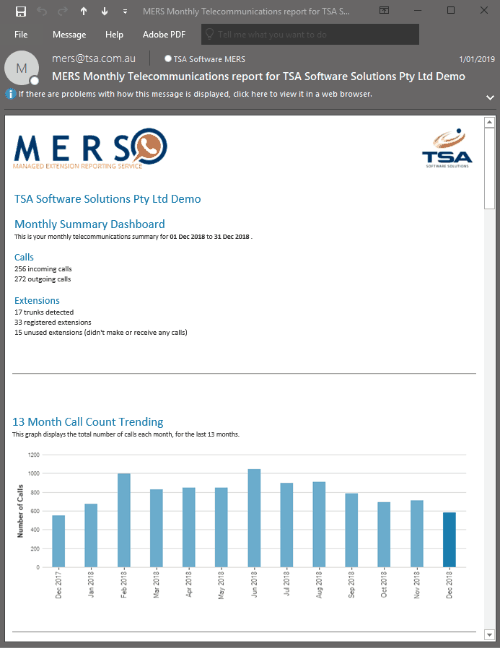 MERS Portal
​
Login to the MERS Portal at any time to view your latest call stats.
​
Use the MERS Portal to
View dashboard graphs

Call Summary table

Call Detail table

Export data tables to XLSX

Manage your email alert settings,

Set descriptions to each extension, and manage authority codes.
Alerts Emailed to you Daily
​
Alerts are business rules applied to every call.
Set parameters for each measured category to trigger an email alert to send to a stored email address (or multiple email addresses).
​
The MERS system will deliver email alerts in a summary format outlining each event. Alert emails are issued once a day.
​
No Calls Recorded

All Lines Busy

High Call Time - per call

High Call Time - per day

High Number of Calls - per day

Many Calls to the Same Number

Calls To Flagged Numbers.

Calls From Flagged Numbers.

International Calls.

Unanswered Calls.

Out of Hours Calls